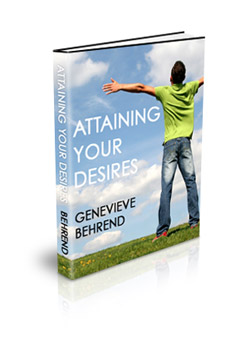 To thank you for visiting Accelerate Me, I've decided to give you the amazing book that changed my life — one of the 3 most powerful books of all time — completely free.
And in a few minutes you'll know how to Manifest Your Desires — and eliminate worry, stress, and strain — with the help of this incredible woman's wisdom.
Genevieve Behrend's long lost 1929 book — called Attaining Your Desires: By Letting Your Subconscious Mind Work For You — is now an e-book. Here are the details:
I found a copy of this amazing book many years ago. It taught me how to focus on the essence of something I wanted — rather than on the appearance of something — in order to magnetize myself to receive what I truly desired.
As a result of using Behrend's methods — simple as they may seem — I've manifested new cars, a new home, a new relationship, improved health, and a whole lot more.
Master copywriter David Garfinkel said this about Behrend's book: "I would say this is the clearest, most comprehensive, most practical and indeed most do-able explanation of how the Creative Process works in real life that I've ever read."
What's the story on this almost miraculous old book?
Behrend wrote her book as a complete seven-lesson course. The writing is in dialogue form, between a "Sage" and a "Pupil." The Sage is a famous author and teacher; the Pupil is you. It is very easy reading, very tightly written, and very enlightening. Here are a few of the lesson titles:
Lesson 2: How to Get What You Want
Lesson 3. How to Overcome Adverse Conditions
Lesson 5. Making Your Subjective Mind Work for You
Lesson 7. Putting Your Lessons Into Practice
Within these lessons is pure compressed dynamite. I mean it. Here are a few sub-headings to give you a sense of the staggering power of this rare material:
"The Secret of Controlling Your Life Forces"
"Don't Look for Coincidences In Your Life"
"How to Drive Anxiety Out of Your Mind"
"How You Can Control Circumstances"
"How Your Mind Is Related to The Universal Mind"
"How to Develop Health and Harmony"
The list of incredible topics, answers, and mind expanding concepts goes on and on. The book even includes special sections on handling anger, disease, disappointment, and much more. Now it's your turn to learn from this amazing author. You can download it right away simply by entering your name below.
You may have read books on manifestation before but I GUARANTEE you've never read a book like THIS before.
Enter your name and email for FREE instant access: