In the last article, we asked the question "What is meditation, really?" Today, I've created a video that shows you exactly how you can accelerate your own meditation, and gain all the benefits of a deep meditative state, immediately.
Don't make the mistake of thinking I'm hyping this up. I recommend grabbing a pen and some paper, hitting the "full-screen" button, and learning all about how you can claim all the benefits of meditation without learning a technique.
Meditation isn't just about sitting quietly and relaxing. We meditate to improve our waking lives.
In this video you will learn:
What happens in the three phases of meditation.
How to generate deep, meditative brainwave states.
How to spend more time in the beneficial, awakened states.
The brain states for manifesting what you want in the world, and creating life as you would prefer it.
How your unconscious thoughts and emotions get in the way of you manifesting what you want.
How to take back control of your life, heal your past, and create your dream life.
The secret of Transformational Realization.
Watch the video before reading on. Seriously. Lock the doors, and watch this video in its entirety now 🙂
The Three Phases of Meditation
Technique
Meditative state
Expanding conscious awareness
Number 1. (technique) can take people up to 20 years to master before being able to actually get into no.2 (the meditative state). And forget about no. 3, until you have spent a lot of time in the state.
The Accelerated Meditation cuts out phase one. Instead of you mastering a technique, the AM uses technology to entrain your brain into the meditative state immediately, opening up all the possibilities of no. 3 (expanding conscious awareness) to you.
The Brainwave States
Beta (regular waking state / fight or flight state)
Alpha (traditional meditative state / open-focus Accelerated Meditation waking state)
Theta (REM sleep / Accelerated Meditation state)
Delta (deep, dreamless sleep / Accelerated Meditation state)
Important link from the video
To learn how you can jump immediately into the deeper states of meditation, all without a technique, visit my page about the Accelerated Meditation.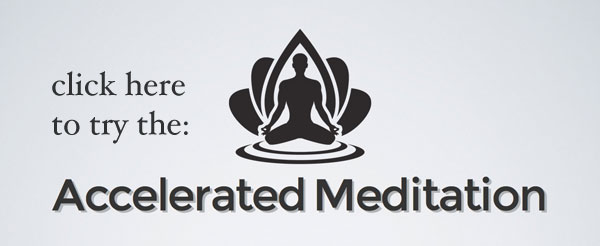 And as always, please leave me your feedback in the comments section below. I read every comment, and love interacting with you all 😀