I got an email today from one of my best students. He has two great qualities that will see him go far:
He's curious, and
he's not afraid to ask questions. A lot of questions!
His question today is an important one, because if you've ever wondered who you really are, then this will help shed some light.
Here's Viktor's question:
"… You've told me that "You are not your thoughts" something I am trying to grasp still. I realize this probably means that we're not our bodies either.

So what are we? A combination of the things I've mentioned above plus this extra almost divine little spark? 🙂 …"
And here's my reply:
Hey Viktor,
…You are not your thoughts. Boy, was this something I struggled with for a long time. I had always assumed that "I" was my thoughts, or my intellect. But after you've been on the planet for a few years, you begin to see that this doesn't reflect reality.
You might have made this same assumption, or you might think of yourself being your ego, or personality, or self-image. But these are all just abstractions of the truth.
When I first experienced bliss in meditation for that split second… "I" ceased to exist. There was no self-image (illusion). There were no thoughts (mind chatter). No thoughts, no ego, no mental model of reality being conceptualized. What I thought was me, was not there anymore…
But I was still alive.
And then "I" came crashing back! A wall of thoughts tumbled back into my head. Judgements. Monkey mind. And the idea of myself came back too.
It's that idea, or concept of self, that ego that we make up, that gets in the way of experiencing life/reality directly.
That's all the ego is. A collection of ideas, or thoughts. Most of which you did not design consciously. But which came about by accepting the judgements of yourself and others. Your self-concept is likely limiting you – and you are not aware of it!
It limits you to keep you safe. But the dangers it's protecting you from are likely long gone. You created this mental shell when you were a kid. You are grown now. A powerful adult. But still a slave to your own mental model. Everybody is!
Except those who aren't. Those who live life directly. All those enlightened people we read about. Jesus. The Buddha. Etc. And a lot of regular, everyday people who have meditated and noticed what their consciousness is doing, and seen the truth of life:
That is, the self-image that we unconsciously build does not have to control our lives. We can either build a better one, consciously. Or choose to live in the moment at all times, and do away with the patterns a self-image creates altogether.
So, who are You anyway? If you are not your thoughts. Not your body. Not your idea of yourself, your self image. If all of those things go away, who are you?
When you are asleep, who are you? When you meditate, who are you? What does it feel like?
Let me ask you a question.
How big is the sun? Well, you could measure the diameter by it's visible fire. Or you could choose to measure it by how far its light beams travel. Two very different answers, right? Here's another.
When does life begin for a person? We usually say that it begins when they are born, but the fetus lives before that so we could say life begins at a certain number of weeks of pregnancy. Or we could argue that it begins at conception. Or would it begin with the creation of the egg? The sperm? The birth of the father? The mother? It goes on and on!
The point is this: We set an arbitrary definition that life begins on the birthday. It's arbitrary that the diameter of the sun is limited by its visible fire. It is arbitrary because we humans just decided to divide it up like that for convenience sake.
But the reality is, the question doesn't really have a satisfactory answer. It just goes on and on. Keep that in mind for a second while we talk about the next important point.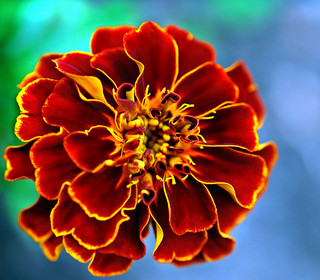 Think of a flower.
A single stem.
Now, what did that flower need to grow? Soil and nutrients, water, bees to pollinate it, sunlight, a planet with our exact atmosphere of air, etc. So, it really doesn't exist as a single "thing." It exists as part of a system – as part of the universe. We only limit it and call it a flower because of convenience.
It would be more accurate to describe it not as a flower, but as a flowering. It is not a thing, but a doing. A process. A system.
So we divide the world up into separate "things." Things that do not exist by themselves. They are just a part of a happening, part of a process. Our spoken human languages necessitates the division into objects. But this mental division, creates the illusion that the world contains separate things, when it does not.
Nothing on this planet, in this universe, exists as a thing. It is all ONE. The universe is a system. It is one. Uni — meaning "one."
You are part of this universe.
Not a separate part.
An integral happening of the universe. Just like that flower.
Your consciousness is the consciousness of the universe. Experienced through your physical being. Right now.
Consciousness is one.
And, you are right. You could call this a divine little spark.
Although the feeling is pretty all-encompassing to me.
You are not your thoughts, ideas, beliefs, concepts and models. Use them as tools, but don't be fooled that you are them.
When you transcend the experience of duality — of dividing the universe up into separate "things" — you experience the reality of bliss, love, peace — and oneness.
Here's to your bliss,
Jim